By
Miranda McCabe
on August 19th 2021 August 19th 2021
Is this your first auction? First in a while? Only ever made a bid on eBay?!
Don't worry, Prop Store has you covered. In addition to the full Buyer's Guide and Terms & Conditions provided on the auction landing page, here is a handy reference guide to help you participate in the MythBusters Online Charity Auction!
ONLINE BIDDING
For this auction, all  ibids must be placed online. Similar to many other online auction sites, our online bidders are able to place bids at any time during the auction between the start of bidding on August 20th, 2021 and the close of the sale on September 1st, 2021. This method allows bidders to place and increase their max bids at any time, on any computer or smart device.
Registration:  Click the REGISTER TO BID button next to every lot in the auction catalog page. This will bring you to the Prop Store Auction Registration Page.
Online Bidder Registration: Fill out the digital form and click SIGNUP. After doing so, you will receive an automated email confirmation about your registration and the status of your pending approval for bidding. Bidders are approved manually, so you may not be able to start bidding instantly, but rest assured that approvals are typically ready to bid within 1 business day.
Bidding: Approved online bidders can place bids at any time in the auction by visiting the auction's catalogue page, where you can browse and bid on all lots. Once you have selected the lot you wish to bid on, enter the amount you wish to bid and click BID NOW on the lot's listing page. At this point, you can increase your bid by single increments or place your max bid on the item.
A quick note on max bids: Much like eBay or similar online auction sites, you can enter a max bid on an item at any time during the auction. Bidding on each item will increase only when two or more bidders are actively advancing the price. For instance, if you are the only bidder and place a high max bid, the hammer price for the item will only reach that bid if another bidder bids the increment below it.
AUCTION VOCABULARY
(Don't worry, there won't be a quiz at the end.)
Hammer Price: The current high bid for a lot in the auction. The final bid with the highest hammer price wins the lot.
Buyer's Premium: A 25% charge added to the hammer price of each lot in all Prop Store auctions.
Asking Price: The next bid available to bidders to make, one increment above the current price.
Max Bid: A bidder's highest hammer price bid on an auction lot. Max bids are not visible to others and your bid will not be advanced to that amount unless another bidder bids up to it.
Bidding Increments: As indicated above, the asking price for auction lots is determined by set increments. Here is a summary of the increments being used in this auction.
BID INCREMENTS:
$0 – $300 $25
$300 – $500 $50
$500 – $2,000 $100
$2,000 – $5,000 $250
$5,000 – $10,000 $500
$10,000 – $20,000 $1,000
$20,000 – $50,000 $2,500
$50,000 – $100,000 $5,000
$100,000+ $10,000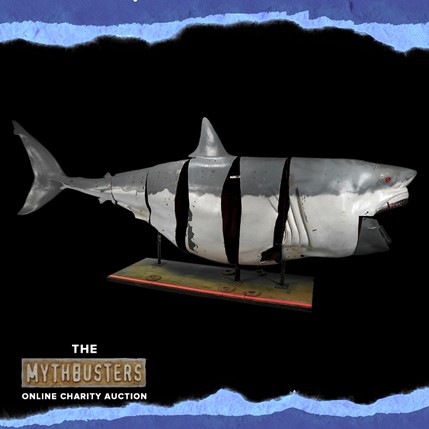 FAQs
How long is the bidding period open for a lot?
For each lot, you will notice a countdown clock.  The countdown clock shows how much time is still available for bidding on that lot.  Each lot is scheduled to close at a different time increment through the course of the last day of the auction.  In the last minute of bidding, if a bid is placed, the countdown clock will be extended by one (1) additional minute.  Once the countdown clock reaches "0," bidding will end and the lot will be "Closed."  Please note that the timer may reflect that the remaining Auction Period is "0" but the Auction Period has not concluded because it has been extended by a bid made within the last minute. It is the bidder's responsibility to refresh the page to determine whether the Auction Period has been extended. In any event, the Auction Period for any lot shall not be deemed completed until it states "Closed." Please also refrain from attempting to snipe bid, as doing so only adds more time for other bidders to counter your bid on the lot.
How do I participate in the auction?
All interested bidders must register on the auction platform and await approval. You must have a valid credit card to verify your account. Your Prop Store account log-in, associated with prior Buy It Now orders, will not be valid for auction bidding—you will need to create a new auction account to sign up.
If I'm already registered for the auction, do I need to do anything else to bid online? 
Nope! Bid away!!
In addition to bidding online, can I also bid via telephone or absentee bids?
No, telephone bids and absentee bids can only be placed during Prop Store's live auctions.
Can I attend the auction in person or view items at Prop Store's Valencia office?
No. The MythBusters Online Charity Auction will not be open for in-person attendance or viewing.  But, if you have any questions about items that you'd like to bid on, please e-mail us at auctionla@propstore.com.
Is there a way for me to cancel my online bid?
No, as per our Terms & Conditions, all auction bids are final and legally binding.
Where can I look to confirm that I won a lot?
Your winning lots will appear in your auction account once they've closed.
When will I receive my invoice?
Invoices will generally be sent within 24 hours of the final lot in the auction closing.
What costs am I responsible for if I win?
You are responsible for paying the final Hammer Price, Buyer's Premium, Shipping & Handling, and applicable Sales Tax and/or VAT charges.  See the Auction Terms and Conditions for more information.
Are you offering Payment Plans for auction wins?
Yes, we do offer Payment Plans, for a maximum of 3 months, for orders with a total price of $1,000. Please review the specific Auction Terms and Conditions for more information.
What methods of payment do you accept?
Payment can be made by Visa, Mastercard, American Express, Discover, and bank transfer. See the Buyer's Guide for more information.
How much is the shipping cost for each lot and will my item be covered under insurance when it is shipped?
Prop Store ships worldwide. Shipping will vary by item, based on size, weight, and shipping preferences. If you win multiple lots, we will look to pack them together as part of one shipment. Before bidding on items, you are encouraged to ask for a shipping quote by emailing auctionla@propstore.com or clicking on the "Get a Shipping Quote" button at the bottom of each listing in the auction.  Please note that some of the items in this auction are being stored offsite at another location in Los Angeles and will be shipped from there.  All orders are covered by Prop Store's insurance as they are being shipped to you. This is included in the shipping price quoted.
That should be everything you need to know about bidding in the MythBusters Online Charity Auction. Remember: proceeds from the auction go to the Grant Imahara STEAM Foundation. As always, should you have any questions at all, feel free to drop us an email at auctionla@propstore.com.  Thanks for reading, and happy bidding!
Don't forget to follow us on Twitter and Facebook. And remember, you can explore so much more at our archive and see the extensive range of film and TV items we have for sale and auction over at propstore.com!