By
Dan Jolin
on October 06th 2021 October 06th 2021
This November, Prop Store is once more opening a vast cinematic treasure trove, with more than 1,000 pieces of memorabilia going under the hammer for an estimated total value of $7.6 million.
It's always a joy to see artifacts and outfits once rendered in flickering light on the big screen 'in the flesh', as it were, and there's no shortage of joy to be brought by this year's impressive selection of lots. Here's just a taste of what's on offer…

---
Marty McFly's Hoverboard
Back to the Future Part II (1989)
Used by time-travelling teen-hero Marty McFly (Michael J. Fox) in both beloved Back to the Future sequels, this bright-green-and-pink hoverboard was exactly the kind of sci-fi movie creation that got everyone thinking: when can we get one of those?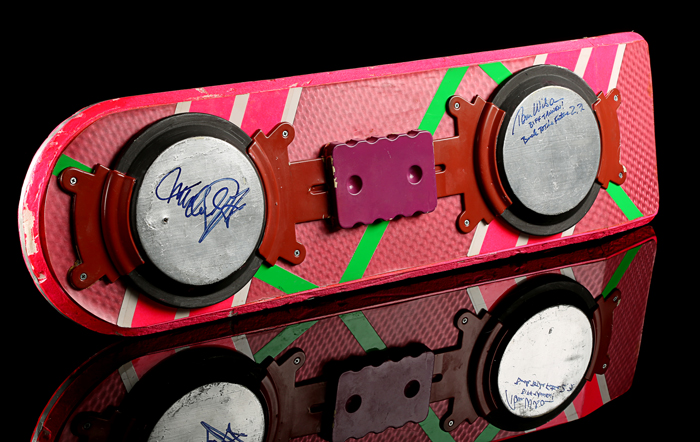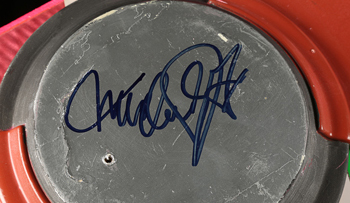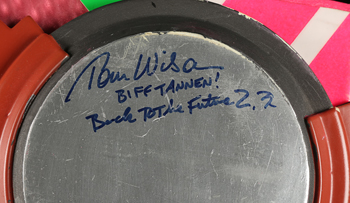 Lot 24 – Michael J. Fox-autographed Marty McFly Lenticular Mattel Hoverboard, BACK TO THE FUTURE PART II (1989)
Of course, this Styrofoam version of the board doesn't actually fly – sorry to break it to you, none of them did – but it is a lenticular version of the prop, featuring a 3D graphic on each side. The lenticular printing process of was so expensive, the production soon had to replace it with a non-lenticular process, making this a very rare hoverboard. Even more so, given it's also been autographed by Fox himself and Thomas F. Wilson (Biff and Griff Tannen).
---
Wilson
Cast Away (2000)
On a list of best performances by an inanimate object, Cast Away's blood-stained volleyball Wilson would surely rank somewhere in the Top One. 'He' is desert island-stranded FedEx trouble-shooter Chuck Noland's sole companion during four years of grim isolation, given such convincing life by Hanks that you can't help but shed a tear when he is ultimately lost at sea during Chuck's last desperate attempt to return to civilization.


Lot 63 – Chuck Noland's (Tom Hanks) Hero Screen-matched Wilson, CAST AWAY (2000)

This particular Wilson screen-matches the one seen during that very sequence, in close-up, bobbing in the brine after a fierce storm. In fact, he spent so much time in the water for shooting, his shape has warped a little, while that distinctive handprint 'face' is a little blurred through wear. It was a physically demanding role, after all…
---
Buddy's Elf Costume
Elf (2003)
Since its release in 2003, Jon Favreau's seasonal comedy Elf has become essential Christmas viewing. This is thanks in no small part to the fish-out-of-water brilliance of Will Ferrell as Buddy, the guy raised as a North Pole elf who's then sent back to his hometown of New York to reconnect with his gruff father (James Caan).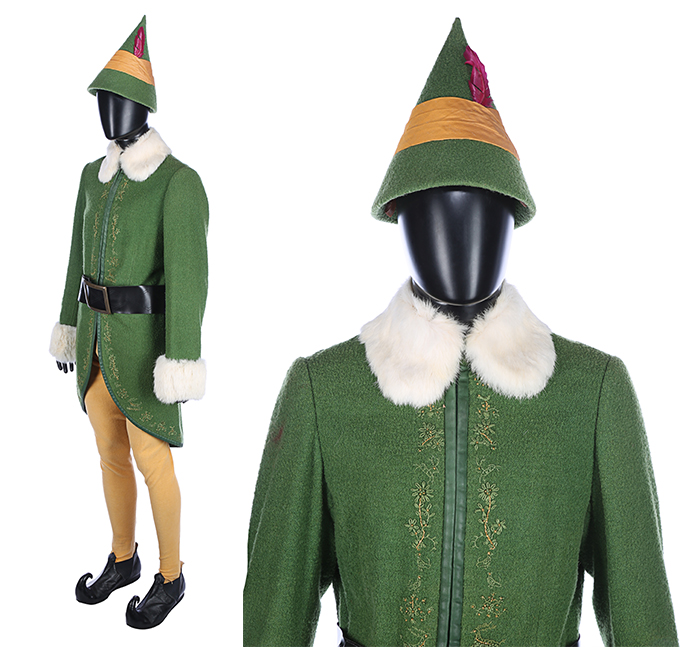 Lot 92 – Buddy's (Will Ferrell) Hero Elf Costume, ELF (2003)

The delightful ridiculousness of Buddy's situation is only accentuated by his attire: a green-and-yellow elf outfit, complete with a pointed hat, white fur cuffs and a pair of curled-toe shoes… All tailored for a man who's over six feet tall. As costumes go, this one is a true visual joke.
---
Maximus' Helmet and Mask
Gladiator (2000)
The general who became a slave. The slave who became a gladiator. The gladiator who became a cinematic icon. When Maximus (Russell Crowe) appeared during the Colosseum re-enactment of the Battle of Carthage, his choice of headwear would define him visually for generations of film fans.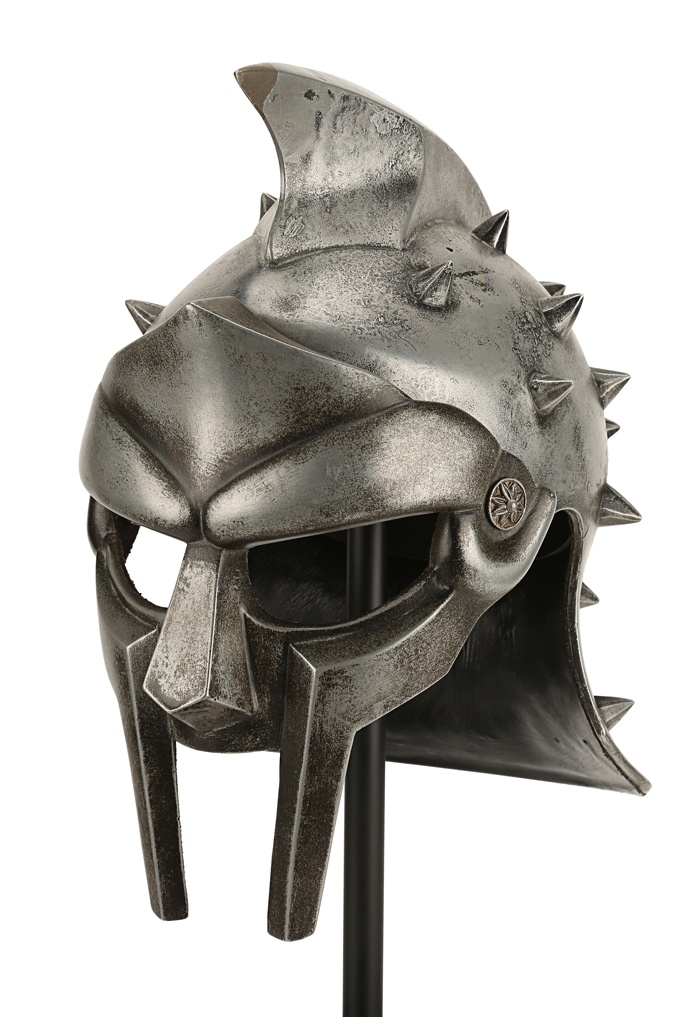 Lot 141 – Maximus' (Russell Crowe) Arena Helmet and Mask, GLADIATOR (2000)

With its spike-covered helmet and angular mask – needed to protect Maximus' identity from his foes in the audience – it is designed to impress as much as protect (though this version is made of fibreglass). Which makes obvious sense, given gladiators were ultimately there to put on a great show. As the man himself once bellowed, "Are you not entertained?" We certainly were, especially when he wore things like this.
---
James Bond's Suit
You Only Live Twice (1967)
Sean Connery was a very canny operator. As well as getting paid for playing James Bond, he also had an agreement with producer Cubby Broccoli that he could keep any of the suits he wore as 007 – all of which were bespoke-tailored by celebrated tailor Anthony Sinclair. That makes this lot a particular rarity: a cool Bond outfit that wasn't snapped up by Big Tam himself.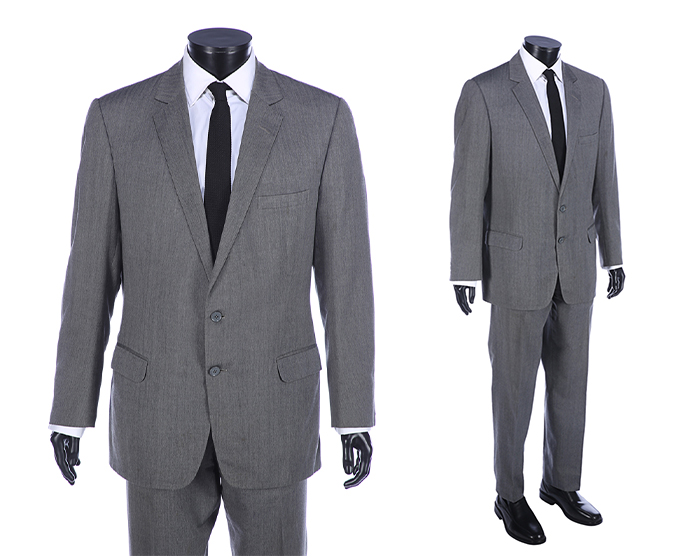 Lot 199 – James Bond's (Sean Connery) Screen-matched Suit, JAMES BOND: YOU ONLY LIVE TWICE (1967)

This grey herringbone woollen two-piece was worn by Connery in the scenes following Bond's Tokyo arrival in You Only Live Twice; you can see it's the same one from a telling pinch in the jacket's left shoulder. And it surely provides material evidence that, when it comes to slick spy-wear, few other secret agents could ever measure up.
---
Light-up X-Wing Miniature
Star Wars: Return of the Jedi (1983)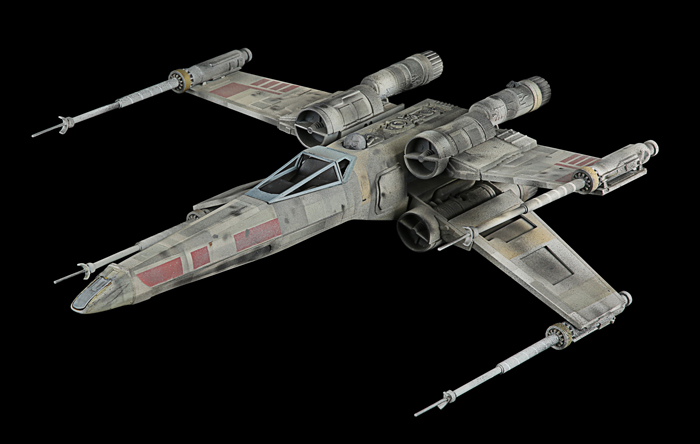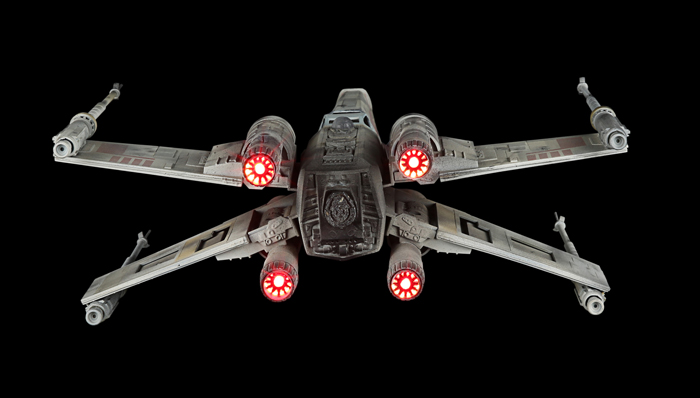 Lot 339 – Light-up ILM X-wing Filming Miniature, STAR WARS: RETURN OF THE JEDI (1983)

Before the era of CGI, miniature work was crucial to world-building visual effects, especially when it came to George Lucas' Star Wars universe. Despite their extensive use during the original trilogy, it isn't very often a Star Wars miniature goes up for auction, so it's a real treat to see this Return of the Jedi X-Wing with light-up engine thrusters available as part of this one, coming direct from an ILM model maker (who also worked on E.T. The Extra-Terrestrial and the first three Indiana Jones films). And with its lower wings marked "Red 5", it might even be the spacecraft piloted by Luke Skywalker (Mark Hamill) himself.
---
Freddy Krueger's Glove
A Nightmare on Elm Street 3: Dream Warriors (1987)
One, two, Freddy's coming for you… It's impossible to imagine subconscious-stalking killer Freddy Krueger (Robert Englund) without his razor-fingered glove.


Lot 263 – Freddy Krueger's (Robert Englund) Razor Finger Glove, A NIGHTMARE ON ELM STREET 3: DREAM WARRIORS (1987)

This example of the vicious implement, with stainless steel razors attached to copper finger plates, appeared not only in the third Nightmare movie Dream Warriors, but also in Sam Raimi's Evil Dead II, in a cameo Easter egg appearance. Raimi had it nabbed from the set to appear in his film, after Wes Craven used footage from The Evil Dead in the first A Nightmare on Elm Street.
---
Spider-Man's Costume
Spider-Man 3 (2007)
Given he's easily one of the most popular comic-book heroes, it's not surprising we're about to get our eighth live-action Spider-Man movie; that's almost as many as Batman, now. This costume comes from the third film, starring Tobey Maguire, where our friendly neighborhood webslinger underwent his biggest change in look, switching for a time to the malevolent, living-material black suit (aka Venom). But this is the heroic blue-and-red version, complete with a silver rubber web pattern and those distinctive tear-shaped eye pieces, made of plastic and attached via magnets.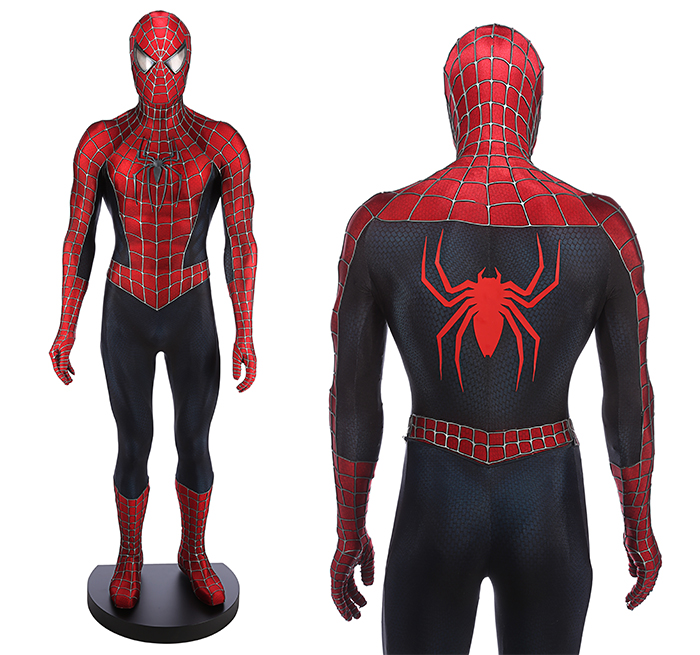 Lot 301 – Production-made Spider-Man (Tobey Maguire) Costume, SPIDER-MAN 3 (2007)

Though the costume, designed by Oscar-winner James Acheson, wasn't actually ever worn by Maguire or any of his doubles, it was made during the production, and its spandex comes stretched over a production-used muscle suit.
---
Wonder Woman's Schloss Party Dress Design
Wonder Woman (2017)
Costume designer Lindy Hemming has dressed James Bond, made Batman's suit believable (in the films of Christopher Nolan) and, most recently, given Wonder Woman her first-ever big-screen look.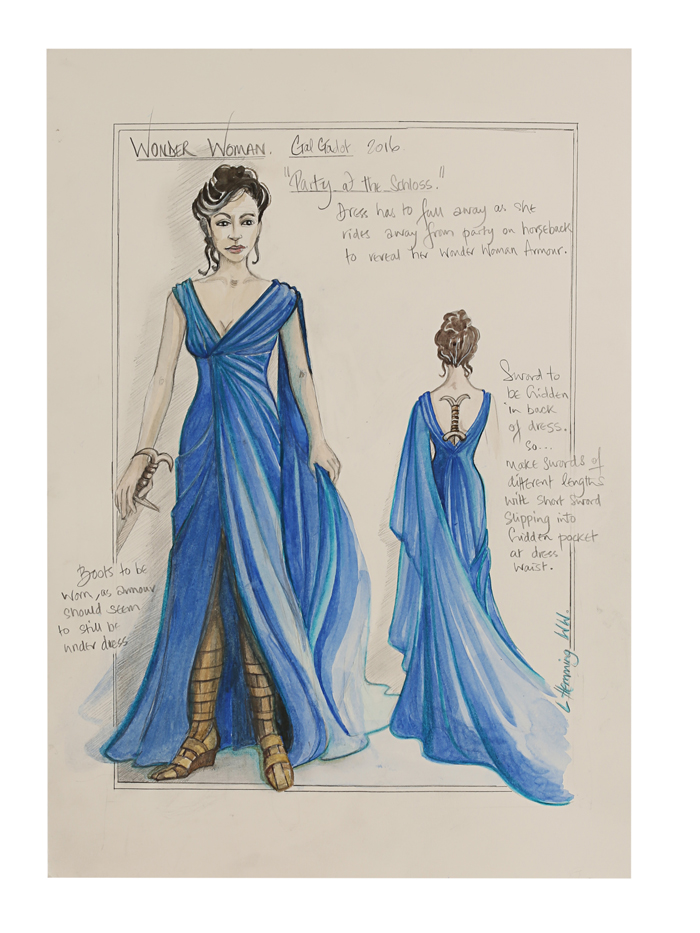 Lot 30 – BAFTA Collection: Hand-painted Lindy Hemming Costume Design for Wonder Woman's (Gal Gadot) Schloss Party Dress, WONDER WOMAN (2017)

This watercolor-and-pencil artwork, signed by Hemming, is a precious insight into her process, showing front and rear views of Diana's (Gal Gadot) blue, Grecian-style schloss party outfit – complete with her sword tucked neatly into the back of the dress. (All hammer-price proceeds for this lot will be donated to BAFTA.)
---
Rick Deckard's Shirt
Blade Runner (1982)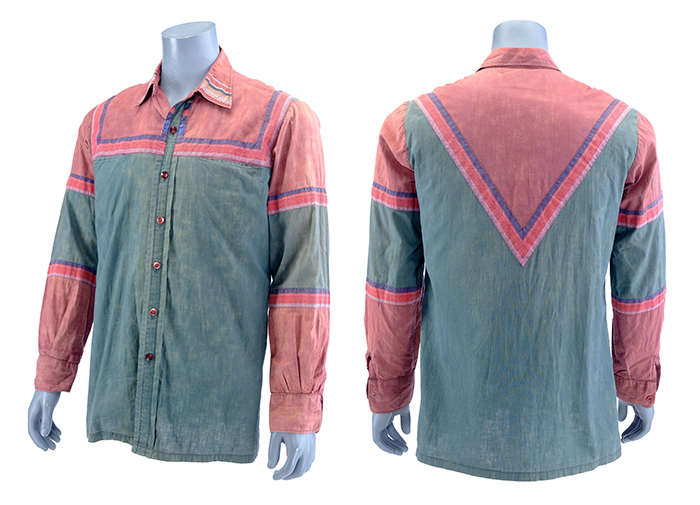 Lot 53 – Rick Deckard's (Harrison Ford) Photo-matched Shirt, BLADE RUNNER (1982)

With its future-noir aesthetic, Blade Runner is surely one of the most influentially stylish sci-fi movies ever made. You could argue its hero, the replicant-hunting Rick Deckard (Harrison Ford) is the most traditionally dressed – more 'noir' than 'future' – but costume designer Michael Kaplan ensured his outfits had distinctive features. Such as this shirt (notably worn by Ford in promotional photos), with its original red plastic buttons and strips of patterned fabric. It's a piece of 21st-century flair beneath the '40s-style raincoat.
---
Full-size T-800 Endoskeleton
Terminator 2: Judgment Day (1991)
It is, quite literally, the stuff of nightmares. The image of the Terminator's chrome skeleton first appeared to writer/director James Cameron in a dream, while he was suffering from a fever in a cheap Italian hotel. Only three years later, with the help of creature effects genius Stan Winston, he'd made that dream real with 1984's The Terminator, creating a sci-fi icon that would go nuclear with the 1991 sequel Judgment Day.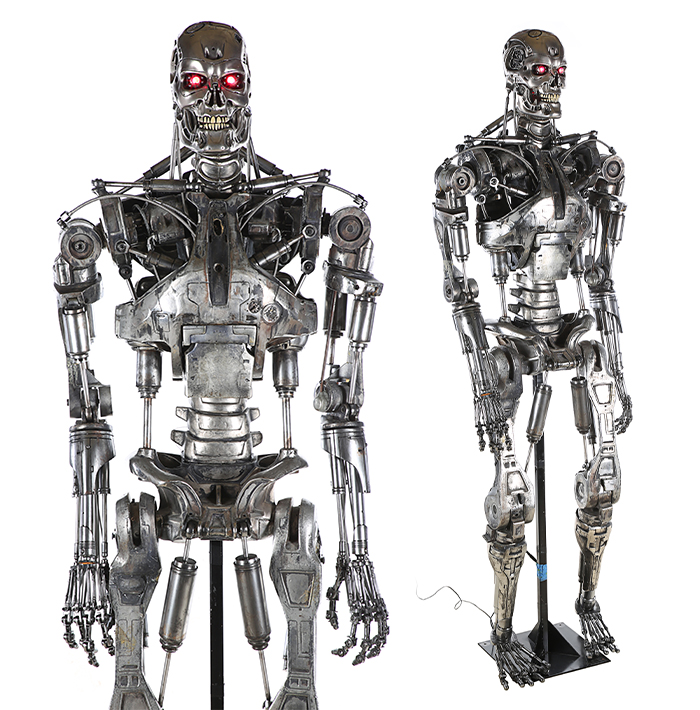 Lot 378 – Full-size T-800 Endoskeleton, TERMINATOR 2: JUDGMENT DAY (1991)
Constructed primarily from chrome-plated resin, this life-size endoskeleton is the franchise incarnate, repurposed from its Terminator 2 origins by Stan Winston Studios for a planned magic show by Criss "Mindfreak" Angel in Las Vegas. With its merciless glare enhanced by illuminating red eyes, it's guaranteed to keep you awake at night.
---
If you want to see more of our awesome props and costumes from the auction, make sure to check back on the 12th October when the full London 2021 Entertainment Memorabilia auction catalogue will be live – propstore.com/liveauction

Don't forget to follow us on Twitter and Facebook. And remember, you can explore so much more at our archive and see the extensive range of film and TV items we have for sale and auction over at propstore.com!