By
Miranda McCabe
on October 21st 2021 October 21st 2021
The way a character is dressed is one of the defining elements in filmmaking that give you, the audience, an insight into just who they are. Whether it's an elaborate ballgown, well-tailored suit, or a wacky ensemble, an actor's costume can provide critical moments within a film, portray a specific time period and bring a character to life.
As we edge nearer to our seventh UK-based Entertainment Memorabilia Live Auction (our first 3-day event!), let's take a look at a selection of iconic costumes which will be available to bid on.
Maximus' Armour – GLADIATOR (2000)
Image courtesy of Business Insider
Ridley Scott's epic story of Roman General Maximus Decimus Meridius' (Russel Crowe) descent into slavery and emerging as a fearless Gladiator seeking revenge after his wife and son are brutally murdered. The attire within the movie was designed by Janty Yates, who won the Best Costume Design Academy Award for her work on Gladiator in 2001. A production this big required armour – lots of armour.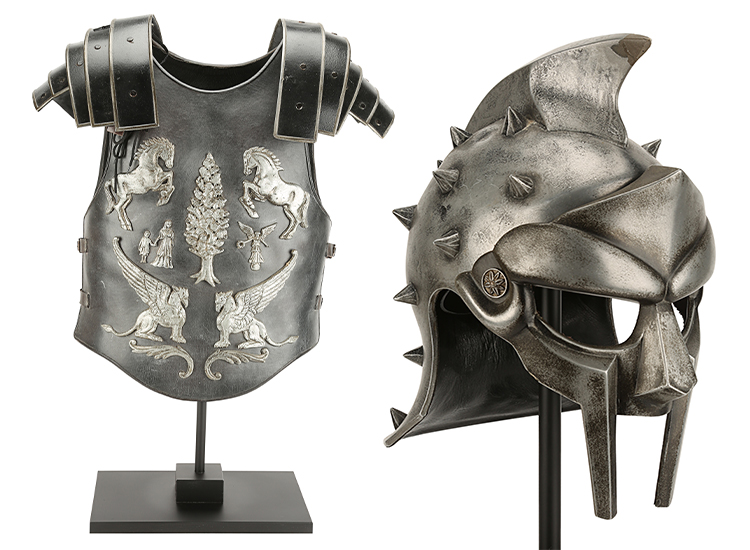 Twelve different sets were created for Maximus, each for a specific function and distressed in various stages. One of the main elements of Maximus' costume is his chest plate which cleverly showcases his journey through the movie. After each victory, Maximus would add an embellishment to his breastplate, including a figure of his wife and son. Yates has stated that the idea for this design detail was, in fact, Crowe's and added more depth to his character.
Bill the Butcher's Costume – Gangs of New York
Image courtesy of Think.cz
Martin Scorsese's historical drama Gangs of New York received multiple Academy Award nominations, and who could forget Daniel Day Lewis's portrayal of gang leader "Bill the Butcher". All movies require an extensive amount of research, no more so than historical productions. The costumes must be accurate to the period to be believable, with bespoke detailing that makes them unique. And that is precisely what Sandy Powell did for Bill the Butcher.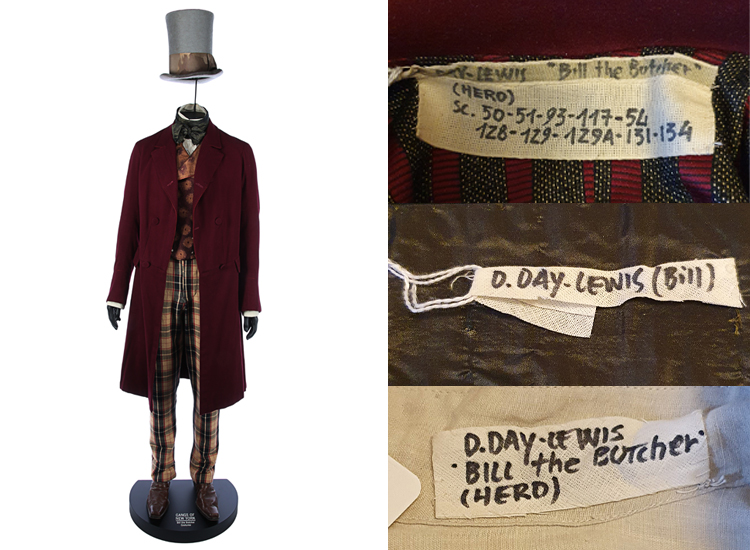 The colours and patterns used were correct for the period and created the perfect ensemble for the dandy gangster. Powell tailored the costume to Lewis' slender build and extended certain parts of the outfit. For example, his top hat was elongated, so it was higher than the other gang members. The combination of Bill's expensive-looking clothing and altered silhouette perfectly captured the intimidating nature of his character. There was no mistaking who was in charge.
Viola de Lesseps' (Gwyneth Paltrow) Juliet Costume – SHAKESPEARE IN LOVE (1998)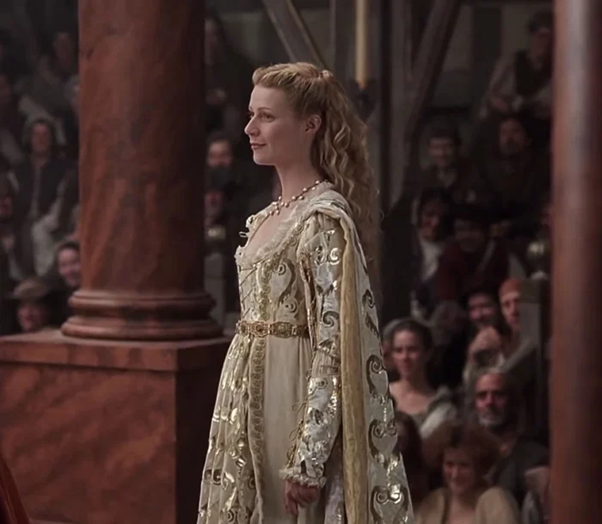 Image courtesy of Pinterest
Sticking with historical costumes, John Madden's 1998 romantic comedy-drama Shakespeare in Love showcased how clothing reflected social status, designed again by Sandy Powell, who was awarded the Academy Award in 1999. In one of the most memorable scenes, Viola (Gwyneth Paltrow) entered the stage as Juliet to an enthralled audience during Shakespeare's (Joseph Fiennes) production of Romeo and Juliet. This, of course, sparked outrage as female actors were prohibited from performing on the stage.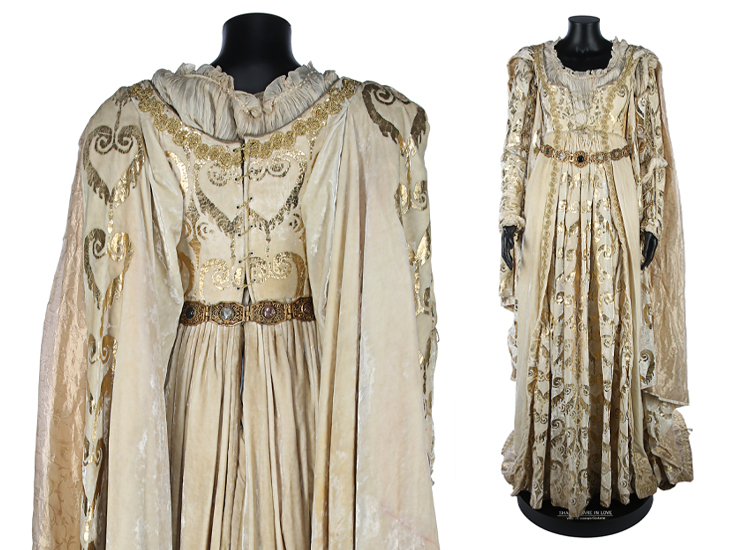 At this time, actors wore items of clothing gifted to the theatre by wealthy advocates. The costumes worn on stage were colourful, embellished and made from more exotic fabrics, used to dazzle audiences. What better way to engage the said audience than have the leading lady enter in a shimmering gown. Powell opted to design a renaissance inspired dress, a deliberate steer away from the correct time period, to cement contrast between the audience and actor's costumes. The metallic gold heart patterns are a sweet decorative element to the gown, reminding you of the prevalent romance theme throughout the movie.
Leeloo's (Milla Jovovich) and Korben Dallas' (Bruce Willis) Costumes – THE FIFTH ELEMENT (1997)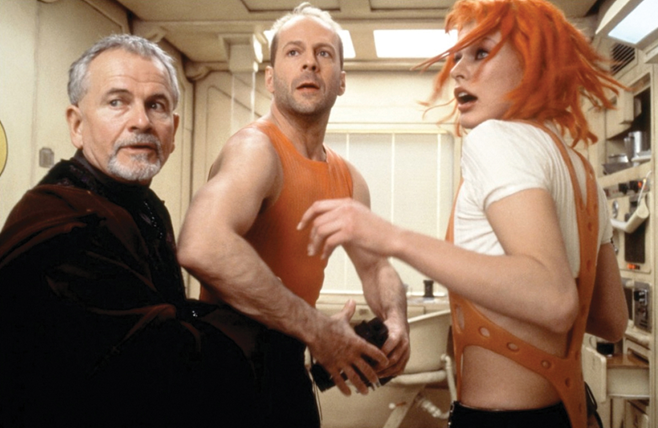 Image courtesy of Pinterest
A visual wonder, Luc Besson's Fifth Element pushed sci-fi's boundaries with its unique and fresh take on what "the future" would look like. Famous couture designer Jean Paul Gaultier crafted the perfect clothing, designing more than 1,000 unique looks. He produced exuberant designs, sticking to a bold colour palette and using unconventional materials such as rubber and plexiglass.
Played by Milla Jovovich, Leeloo's two costumes worn in the film are both equally memorable. Her signature outfit consisted of a cropped white T-shirt, metallic leggings, orange silicone braces and chunky combat style boots. It was simple and modern, but the playful addition of the bright orange braces added that futuristic touch and tied her outfit in with the other main star Korben Dallas (Bruce Willis). Similarly, Dallas also sported a bright orange rubber vest with grey high-waisted nylon trousers.
Spider-Man (Tobey Maguire) Production-Made Costume – SPIDER-MAN 3 (2007)
Image courtesy of Pinterest
Superhero franchises have become one of the most popular genres within the movie industry. Designing the alter egos of these well-known comic book characters is a complicated task and is a lengthy process. Sami Rami's trilogy of films introduced Spider-Man to the big screen and starred Tobey Maguire as Peter Parker/Spider-Man. Academy Award-winning costume designer James Acheson produced an innovative suit that stayed true to the characters previous comic iterations.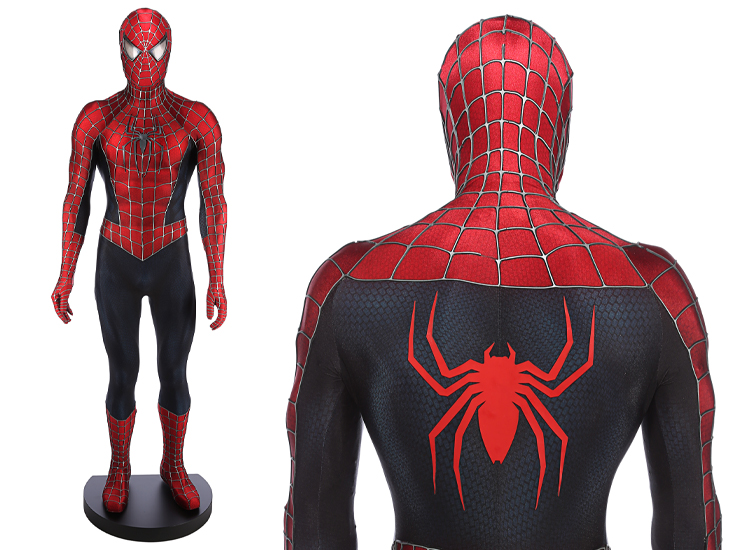 Acheson experimented with several materials as several versions of the suits had to be constructed. The spandex suit needed to retain its colour when stretched, so Acheson trialled various screen and sublimation printing techniques. Also, different methods were tested to create the dimensional webbing and spider emblems that decorate the suit. The eye" lenses" cleverly attach to the face via magnets meaning they could easily be removed during filming.
If you want to see more of our awesome props and costumes from the auction from the London 2021 Entertainment Memorabilia auction, check out the full catalogue now: propstore.com/liveauction

Don't forget to follow us on Twitter and Facebook. And remember, you can explore so much more at our archive and see the extensive range of film and TV items we have for sale and auction over at propstore.com!